Is dit de cursus voor u?
Wanneer u niet zeker bent van uw keuze, kunt u studieadvies aanvragen.
Voor wie
U wilt én kunt zich snel ontwikkelen tot een all-round cyber security professional

U heeft een aantoonbaar HBO+ werk- en denkniveau om het hoge tempo van deze fast track met veel zelfstudie goed te kunnen volgen
S-CCD: Certified Cyber Defender
Inleiding
Deze 5 daagse fast track cursus is bij uitstek geschikt voor mensen die relatief nieuw zijn in het vakgebied en in een korte tijd in hoog tempo een brede basis in de Cyber wereld willen verkrijgen. U krijgt kennis en inzicht in de diverse deelgebieden van Cyber Security: Information Security, IT-Security, Privacy & Data Protection, Business Continuity en Crisis Management.
Met deze brede basis die u krijgt, kunt u zich vervolgens specialiseren in het deelgebied waar uw specifieke voorkeur ligt. Dat kan met een van onze opvolgende Practitioner cursussen.
Na het behalen van het officiële SECO-Institute examen, mag u zich S-CCD noemen waarmee u aantoont breed onderlegd te zijn in het Cyber Security werkveld.
Aanpak
In deze fast track cursus worden in 5 dagen de volgende SECO-Institute Foundation certificeringscursussen behandeld: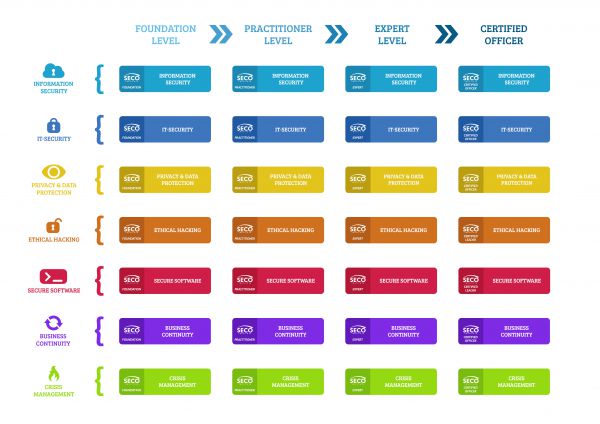 Door het hoge tempo (2x zo snel als normaal) wordt verwacht dat u zich voor de lesdag goed voorbereidt. Tijdens de cursus leidt de docent u door de belangrijkste concepten van de diverse onderwerpen. U krijgt daarnaast de gelegenheid om vragen te stellen over hetgeen u in uw voorbereiding heeft gelezen en waarop u graag een toelichting of praktijkvoorbeeld wilt horen. De docent zal dus niet alle lesstof behandelen, enkel de belangrijkste zaken.
Doelgroep
Deze cursus is uitermate interessant voor personen die zich snel kunnen en willen ontwikkelen in de wereld van Cyber Security. U krijgt kennis en inzicht in zowel de technische- als de organisatie- en proces-aspecten van het vak, waardoor u een volwaardige gesprekspartner wordt.
U kunt denken aan:
Personen die Cyber Security onderwerpen in hun takenportfolio hebben zoals, juristen, consultants, informatiemanagers, coördinatoren informatiebeveiliging.
Personen die hun eerste stap zetten het vakgebied Cyber Security en door willen groeien in de rol van bijvoorbeeld CISO, Data Protection Officer, Crisis Manager, Business Continuity Manager. Denk hierbij aan: aspirant security managers, informatiebeveiligers, Privacy functionarissen, IT Risk en IT Governance functionarissen en Auditors wiens werkveld ook IT gaat omvatten.
Voorkennis
Er is voor deze cursus geen specifieke voorkennis nodig. Wel een aantoonbaar HBO+ werk- en denkniveau om het hoge tempo van deze fast track met veel zelfstudie goed te kunnen volgen. Als u hier niet over beschikt of om andere redenen liever kiest voor een minder intensieve cursusvorm, is het ook mogelijk om de S-CCD certificering te behalen door de afzonderlijke Foundation cursussen te doen.
Cursusmateriaal
U ontvangt bij aanvang van de cursus het officiële cursusmateriaal van SECO-Institute via onze portal. Het cursusmateriaal is Engelstalig en de voertaal tijdens de cursus is Nederlands.
Bij de cursus zit het volgende inbegrepen:
Het SECO-Institute cursusmateriaal van de cursussen
Het SECO-Institute online S-CCD examen
De SECO-Institute S-CCD certification title en digitale badge wanneer u slaagt voor het examen
Een jaar SECO-Institute membership
Een heerlijke lunch
Cursusdata, Online, Klassikaal of Incompany
In onderstaande cursusdata-tabel ziet u achter de startdatum van de cursus, bij het aanklikken van 'alle data' de startdatum en alle overige cursusdata.
Wij bieden al onze cursussen flexibel aan. Dat wil zeggen dat u zelf kunt kiezen of u deze Klassikaal, online of in een mix wenst te volgen. De optie "klassikaal" heeft een beperkt aantal plekken. Reistijd besparen en flexibel je tijd indelen zijn veel gehoorde voordelen van online lessen volgen.
Geef op het inschrijfformulier uw voorkeur aan voor online, klassikaal of mix in het veld "opmerkingen", dan zullen wij hier rekening mee houden.
Wilt u een rustige plek om de cursus online te volgen? Dat kan. We denken graag met u mee over wat in uw situatie het beste is.
Heeft u de cursus online gevolgd en wilt u later alsnog de cursus klassikaal volgen? Dat kan. Kosteloos.
Ook is het mogelijk de opleiding Incompany te krijgen. Dit is vaak al interessant vanaf 4 cursisten. Bekijk onze incompany pagina voor meer informatie.
Information Security
Difference between a standard and a framework (code of practice): ISO 27001 and ISO 27002 in a nutshell
Continual improvement: Deming cycle (Plan – Do – Check – Act)
Implementation of ISO 27001 and ISO 27002
Control objectives and control measures
Data and information
The importance of information security
Measures to safeguard the confidentiality, integrity and availability of information
Information systems
The value of information
Vulnerability, threat and risk
Risk analysis and risk assessment
Types of threats and ways to handle threats
Types of damage
Risk strategies
Security measures
The security policy and the security organisation
(Security) incident management
Information security policy
Roles and responsibilities
Physical, technical and organisational security measures
Types and categories of security procedures
The importance of access management
Identification, authentication and authorisation
Business continuity management aspects
Laws and regulations relating to information security
Compliance areas and compliance measures
IT-Security
Students gain insight into the technological aspects of information security
Students become familiar with basic concepts and relevant terms related to computer and internet technology
TCIP/IP networking, computer systems, applications & databases
Students acquire essential knowledge of cryptography and identity & access management
Students develop a global understanding of each aspect, as well as its impact on security
Students gain insight into cloud computing and exploiting vulnerabilities
Students develop an overview of the most important technological aspects of cloud computing and vulnerabilities, and the most important terms related to computer and internet technology
Privacy & Data Protection
Candidates can recall the historical and legal context of European privacy and data protection legislation and the General Data Protection Regulation (GDPR)
Candidates can define the essential terms and concepts employed in the GDPR
Candidates can describe the GDPR's material and territorial scope
Candidates know what information the GDPR applies to
Candidates know what activities the GDPR applies to
Candidates know in what situations the GDPR applies within and outside the EU/EEA
Candidates understand the main provisions of the GDPR and their consequences for individuals and businesses
Candidates can describe the general principles that govern the processing of personal data
Candidates can describe restrictions on the processing of personal data
Candidates can describe the obligations of controllers and processors
Candidates can describe how compliance with the GDPR can be demonstrated to the supervisory authority
Candidates understand the consequences of non-compliance
Candidates know where they can find additional information about specific provisions
Business Continuity
After a short walk through the basics of Business Continuity, we will focus on the Business Continuity process. For this, we will use the BCM2 process model.
We will continue with the roles and responsibilities needed to implement this process.
Finally, we will take a look at the necessary policies to govern this process.
To be effective, organisations need to know what factors play the most important role in ensuring their continuity. A Business impact Analysis (BIA) should be performed to obtain a picture of how much disruption is acceptable to the organisation.
In other words: organisations first need to be aware of their continuity needs.
After that, a Threat and Vulnerability analysis should be performed to find out in what ways disruptions might occur.
BIA and Risk Analysis
No process can be implemented and governed without a plan. For Business continuity, this means a Business Continuity Plan (BCP). This plan sets out the targets, the roles and responsibilities, and the underlying business case.
A plan that has not been proven to be effective is as good as having no plan at all. Hence, testing all aspects of the BCP is very important. The last module describes how to plan, execute and evaluate these tests.
Crisis Management
Understand what factors may trigger a crisis and learn what crisis management activities should be performed in each stage of the crisis. Learn how a Crisis Management Organisation should operate, and what aspects should be included in an organisation's crisis management strategy.
Definition of crisis, crisis management and crisis communications
The relationship between crisis management and business continuity management
The characteristics and impact of a crisis
The Crisis Management Organisation
The Crisis Management Plan
The crisis management process
Understand the importance of reputation management, and learn what measures an organisation can take to build and maintain a good reputation.
Making reputation a priority
Crisis communication and reputation management
Learn how to enhance the effectiveness of your internal and external crisis communications. Perform a stakeholder analysis to improve your crisis communications, and learn how to handle (social) media platforms effectively during a crisis. Understand what additional factors you will need to deal with in a cross-border crisis situation.
Communication within the Crisis Management Team
Internal crisis communications
External crisis communications
Structured approach to handling social media and the press
International crisis management
Examen & Certificering
Het SECO-Institute examen wordt extern afgenomen door SECO-Institute en bestaat uit multiple choice vragen. Het examen zit inbegrepen bij de cursus. Na succesvolle afronding van het examen ontvangt u het certificaat "Certified Cyber Defender" van SECO en kunt u uw digitale S-CCD badge aanvragen.
Certified Cyber Defender docenten
De Security Academy zet enkel docenten in uit de praktijk. Hieronder vindt u een overzicht van de docenten voor deze cursus.
Cursustijden: 9.00 tot ongeveer 16:30. Om 8:30 staat de koffie klaar.

5 cursusdagen, verspreid over 5 weken

€ 4.250,- incl. examen en SECO-membership, exclusief BTW

10% kortingsvoucher voor een Practitioner cursus naar keuze

Minimaal 40 uur zelfstudie. Er wordt van u als student verwacht dat u voorafgaand aan de lesdag het cursusmateriaal goed hebt bestudeerd.

Lunch is inbegrepen en bestaat uit een buffet met o.a. verse broodjes. Heeft u allergieën of dieetwensen? Gelieve dit tijdig door te geven.

Locatie Nederland:
De Bleek 11
3447 GV  Woerden, Nederland
Routebeschrijving

Goed bereikbaar met het openbaar vervoer en de auto, gratis parkeren achter het pand.