Summer Courses
Wil u deze zomer uw kennis bijspijkeren? We geven weer een mooie verzameling Summer Courses over verschillende onderwerpen. Naast natuurlijk een nuttige opleiding krijgt u een extra zomerse lunch en een toffe goodie bag, speciaal voor de zomer. De Summer Courses zijn een verzameling van tweedaagse cursussen, die allemaal op een leuke en praktische manier uw kennis bijspijkeren over verschillende onderwerpen. Of u nou wil leren hoe je moet hacken, of wat er allemaal onder de GDPR valt, er is voor ieder wat wils!
In de tabel kan u zien welke cursussen meedoen aan de Summer Courses actie.
Volgt u de cursus online? Dan kan u uw goodie bag ophalen op onze locatie in Woerden! Zorg in dit geval dat u uw bewijs van inschrijving bij de hand hebt.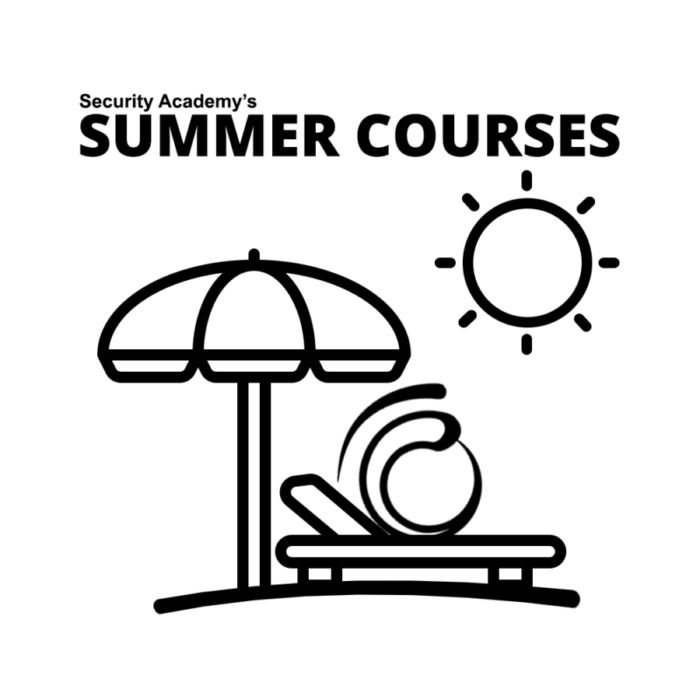 | Cursus | Datum |
| --- | --- |
| IT-Security Foundation | 21 juni , 23 augustus |
| Secure Programming Foundation | 27 juni |
| Ethical Hacking Foundation | 28 juni , 2 september |
| Information Security Foundation | 30 juni , 23 augustus |
| Dark Web Foundation | 23 augustus |
| Privacy & Data Protection Foundation | 24 augustus |
IT-Security Foundation
Met deze cursus maakt u in twee dagen op een laagdrempelige wijze kennis met de belangrijkste technische hulpmiddelen die de informatiebeveiliger tot zijn beschikking heeft. Deze cursus is geschikt voor functionarissen die een beperkte technische achtergrond hebben, maar in hun werk wel met technici in gesprek dienen te kunnen gaan.
Secure Programming Foundation
In de cursus Secure Programming Foundation leert u de basisprincipes van het veilig programmeren. In de cursus ziet u welke mogelijke kwetsbaarheden in applicaties kunnen ontstaan en hoe u deze kunt vinden, maar nog belangrijker hoe deze kwetsbaarheden voorkomen kunnen worden. De cursus is geschikt voor programmeurs die beperkte kennis hebben van veilig programmeren of een update van hun kennis nodig hebben.
Ethical Hacking Foundation
In deze cursus maakt u op een eenvoudige manier kennis met het werkveld van de hacker. U kruipt in de huid van een hacker en leert de basisstappen van veel voorkomende digitale inbraken. Deze cursus is uitermate geschikt voor personen die nieuw zijn in het vakgebied van het ethisch hacken. Ook managers die inzicht willen krijgen in de mogelijkheden en gevaren van hacking zijn welkom.
Information Security Foundation
Iedereen heeft te maken met informatieveiligheid. Medewerkers moeten weten waarom zij tijdens hun dagelijkse werkzaamheden bepaalde handelingen wel, en andere handelingen juist niet moeten doen. In twee dagen wordt u meegenomen in de wereld van informatieveiligheid. U leert de basisbegrippen en bouwstenen van waaruit informatieveiligheid is opgebouwd en ook hoe deze bouwstenen samenhangen. De Information Security Foundation cursus is uitermate geschikt wanneer u de grondbeginselen van de informatieveiligheid wilt leren kennen.
Dark Web Foundation
In deze cursus wordt een duik in het dark web genomen. Deze 2/3-daagse foundationcursus biedt een inleiding van de belangrijkste concepten zoals: darknet, Tor, blockchain, Bitcoin, dark markets en de opkomende economie van "criminality as-a-service". oor zowel technische als niet technische security specialisten is deze cursus interessant. U krijgt inzicht in potentiële dreigingen die ontstaan buiten het gezichtsveld van ons allen en die van grote impact kunnen zijn op uw business.
Privacy & Data Protection Foundation
Privacy wet- en regelgeving (o.a. de AVG/GDPR) is voor ieder bedrijf van belang en er wordt steeds strikter op naleving gecontroleerd door de Autoriteit Persoonsgegevens. Het is dus belangrijk dat uw organisatie daar op de juiste manier mee omgaat. De cursus Privacy & Data Protection Foundation is bedoeld voor iedereen die in zijn werk te maken krijgt met het verzamelen, bewerken of beheren van persoonsgegevens.