PERSBERICHT
Hogeschool Utrecht biedt samen met Security Academy geheel online Ethical Hacking traject aan voor studenten
16 april 2020
Hogeschool Utrecht gaat tijdens Corona crisis slagvaardig om met Ethical Hacking traject voor haar studenten.
Ruim voor de Corona-crisis was de Hogeschool Utrecht een samenwerking aangegaan met de Security Academy. Onderdeel van deze samenwerking is een opleidingstraject Ethical Hacking voor de HBO ICT studenten, bestaande uit de SECO-Institute cursussen Ethical Hacking Foundation en Ethical Hacking Practitioner. Hiermee krijgen studenten en docenten van de Hogeschool Utrecht toegang tot actuele en praktijkgerichte kennis. En toen kwam de Corona crisis. Alle gebouwen van de Hogeschool Utrecht gesloten. Samen met partner Security Academy is met man en macht gewerkt aan een online omgeving die wat verder moest gaan dan een standaard online leeromgeving: 400 VM's voor 125 studenten in een gecompartimenteerde "veilig hackbare" cloud omgeving. En dat is gelukt. Zonder vertraging kunnen de opleidingen gewoon doorgaan.
Anita Bosman, Directeur Institute voor ICT: "Wij willen onze studenten de meest actuele kennis op het gebied van cyber security aanbieden. Daarbij is praktijkgericht onderwijs 'key'. En helemaal geweldig dat we ondanks de Corona crisis deze praktijkgerichte cursussen kunnen laten doorgaan met ervaren ethical hackers. Ik ben trots op mijn docenten en onze partner Security Academy voor de aanpassingen die zij hebben kunnen doorvoeren."
Rick Strijbos, managing director van Security Academy: "Super dat we in goede samenwerking met de Hogeschool Utrecht een mooie oplossing hebben gevonden. We zien op dit moment dat we heel succesvol zijn met het online aanbieden van onze cyber-cursussen. En de resultaten van het online lesgeven overtreffen de verwachtingen. Zowel van onze docenten alsmede van de cursisten. Met als resultaat goed opgeleide professionals op het gebied van Security en Continuity. Want mensen realiseren zich dat in de "1,5 meter samenleving" met veel thuiswerken, cybercriminelen erg actief zijn. Dus meer dan ooit is Cyber Security van groot belang."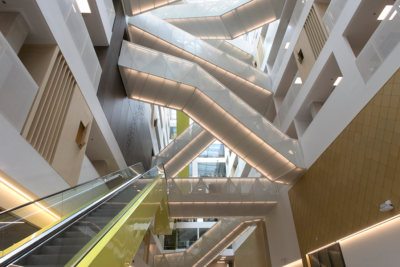 Goed lesgeven met een leeg schoolgebouw? Het kan!
Meer informatie over dit persbericht kunt u krijgen via:
Security Academy, Rick Strijbos: 06 53726274 of rick.strijbos@securityacademy.nl
Hogeschool Utrecht, Serge Wallagh: 06 81423040 of serge.wallagh@hu.nl
Over de Security Academy
De Security Academy, opgericht in 2007, is het opleidingsinstituut in Nederland en België dat zich specifiek richt op de vakgebieden informatiebeveiliging, business continuity, privacy & data protection en crisis management. Het motto is "Praktisch toepasbare kennis". Door de Corona-crisis is men thans volledig over gegaan naar online learning.
Over de HU
Hogeschool Utrecht is een plek waar studenten, docenten en professionals elke dag samen bouwen aan de toekomst. Met hoogwaardig onderwijs en onderzoek werkt de HU aan professionalisering en innovatie van de beroepspraktijk. Dat doet ze vanuit het centrum van Nederland, de regio Utrecht, internationaal bekend om zijn sterke economie en vernieuwende bedrijven.